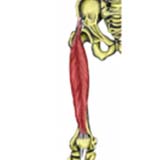 The Rectus Femoris muscle is part of the Quadriceps muscle group. It is the only of the quadriceps group knee muscles which also crosses the hip joint. It is a powerful knee extensor when the hip is extended (back), but is weak when the hip is flexed (forwards).
Origin : Anterior Inferior Iliac Spine (AIIS).
Insertion: Top of the patella and the patella tendon to the tibial tuberosity.
Actions: Flexion of the hip.
Extension of the knee.
Innervation: Femoral nerve.
Daily uses: Kicking a football.
Example strengthening exercises: Standing hip flexion using resistance band.
Sitting hip flexion – isometric.
Example stretches: Hip flexor stretch.
Laying quadricep stretch.
Standing quadricep stretch.