Ice hockey injuries are common because it is a dangerous sport due. It involves high speeds, slippery surfaces, sharp blades and a solid puck travelling at up to 100 miles an hour! However, players do wear extensive protective gear, including helmets.
A large proportion of ice hockey injuries come from awkward falls on the ice and so impact injuries such as AC joint separations and shoulder dislocations are not uncommon.
Most common acute Ice Hockey Injuries
Contusions
Contusions occur in a muscle when there has been a direct impact. The most common site for a contusion is a quadriceps muscle contusion, which is sometimes then referred to as a 'charley horse' or a 'dead leg'. They can occur in any muscle, with the hamstrings and calf muscles being other common locations. Read more on treatment for contusions.
Rotator cuff injuries
A rotator cuff strain is a tear to any of the four rotator cuff muscles in the shoulder and is common in throwing and racket sports. They are so-called because their job is to rotate the arm at the shoulder and provide a supportive cuff around the joint. Treatment consists of reducing pain and inflammation followed by a full rehabilitation program consisting of mobility, strengthening and sports-specific exercises. Read more on the treatment and rehabilitation of rotator cuff strain.
Ankle Sprain
A sprained ankle is one of the most common sports injuries and is also the most frequently re-injured. In the majority of cases, the ankle rolls inwards (inversion) under the weight of the rest of the body, resulting in damage to the ligaments on the outside of the ankle. Read more about treatment and prevention of ankle sprains.
Medial meniscus injury
Medial ligament sprain or MCL injury is a tear of the ligament on the inside of the knee, it is usually a result of direct impact or twisting motion. A medial ligament injury is common in contact sports such as football and rugby, as well as martial arts. They can also occur in daily life through falls and twists of the knee joint. Read more on medial ligament sprain treatment.
Advert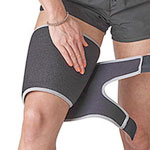 Buy Thigh Supports
Groin strain
A groin strain is a tear or rupture to any one of the adductor muscles resulting in pain in the inner thigh. Groin injuries can range from very mild to very severe injuries that are completely debilitating. Initial treatment involves protection, rest, ice and compression during the early acute stage followed by a thorough rehabilitation and strengthening program. Read more on treatment and rehabilitation for groin strains.
Hamstring strain
A hamstring strain commonly known as a pulled hamstring is a sudden sharp pain at the back of the thigh. Treatment for this injury involves immediate first aid of rest, ice, and compression followed by a full rehabilitation and exercise program. Read more on treatment for hamstring strains.
Dislocated shoulder
Shoulder dislocations are traumatic and painful, they are often caused by contact sports or falling. The upper arm bone dislocates out of its normal position with significant damage to the surrounding soft tissues (muscles, tendons, and ligaments) If you suspect a shoulder dislocation you may require immediate medical attention. Read more on causes and treatment of shoulder dislocations.
AC joint sprain
AC joint separation or AC joint sprain is an injury to the ligament that holds the acromioclavicular joint together at the top of the shoulder. It is usually caused by a fall onto an outstretched arm. Getting early treatment and support through taping is important to avoid long-term problems or shoulder deformity. Read more on the treatment of AC joint sprain.
Common gradual onset Ice Hockey Injuries
Impingement syndrome
Impingement syndrome of the shoulder is sometimes called swimmer's shoulder or thrower's shoulder and is caused by the tendons of the rotator cuff becoming impinged as they pass through the shoulder joint. Symptoms include shoulder pain which comes on gradually over a period of time. Read more on treatment and rehabilitation of impingement syndrome.
Golfer's elbow
Throwers elbow (Golfers elbow) or medial epicondylitis is an injury similar to tennis elbow but causing pain on the inside of the elbow instead. It is sometimes known as thrower's elbow. Symptoms often come on gradually through overuse although acute injuries can occur to pitchers who throw too hard too soon or with bad technique. Read more on treatment for golfer's elbow.
Lower back pain – Back pain can be acute (sudden onset back pain) or chronic back pain (gradual onset or persistent). It can be difficult to diagnose due to the complexity and the number of structures and tissues in the lower back that can cause pain. Pain radiating down the leg is known as Sciatica. Read more on lower back pain.
Should I seek professional treatment?
If you have any of the following symptoms you should seek further medical assistance.
Severe pain, especially on walking
Severe swelling (oedema)
Altered sensation in the foot – such as a feeling of "pins and needles" (paresthesia) or a "loss of feeling" (anaesthesia).
Unable to complete normal daily activities after the initial 72 hours.
Further medical assistance can be sought through either your local GP or a private clinician such as a podiatrist, physiotherapist, sports therapist, osteopath or chiropractor. If you have followed the P.R.I.C.E. principles (see below) and are still unable to walk after 72 hours or still have severe pain that is not subsiding after the first 72 hours you should visit your local A&E department for further assessment.
Secondly, if you have applied for P.R.I.C.E. principles and still have weakness that lasts a long time (more than 2 weeks) or have ongoing discomfort in your foot or heel, you are highly recommended to seek advice from a specialist expert – such as a podiatrist or physiotherapist, osteopath, or chiropractor – who can provide you with advice and an appropriate and effective recovery and rehabilitation program.
Immediate first aid for acute injuries
The PRICE principles are the gold standard set for treating acute sports injuries. The acronym stands for Protection, Rest, Ice, Compression and Elevation and should be applied as early as possible and continued for at least the first 24-72 hours.
Protection
Protection of the damaged tissue is vital to prevent further damage and enable the healing process to start efficiently and effectively. There are a number of ways to protect the injured area all with the same aim of limiting further movement and use of the joint/muscle/ligament/tendon. One way this can be achieved is by using a support or splint.
Rest
In the early stages, rest is one of the most important components of the P.R.I.C.E principle but is often neglected or ignored. It does not only refer to the prolonged period of time that the athlete will be out of action but also to the immediate period after the injury.
An athlete must know when to stop training and allow the injured area to heal otherwise repetitive minor injuries can often result in a more severe injury that keeps the athlete out for much longer.
If an injury is sustained during sporting activity some athletes have a tendency to 'run it off'. This implies that by continuing to participate in the exercise, the injury will simply go away. In fact, in the majority of cases, this is not true and is not advisable.
Ice
Ice therapy, also known as cryotherapy, is one of the most widely known and used treatment modalities for acute sports injuries. It is cheap, easy to use and requires very little time or expertise to prepare.
The application of ice to an injury, in the acute phase, can substantially decrease the extent of the damage. It achieves this in a number of different ways:
Decreases the amount of bleeding by closing down the blood vessels (called vasoconstriction).
Reduces pain (pain gate theory)
Reduces muscle spasm
Reduces the risk of cell death (also called necrosis) by decreasing the rate of metabolism
Ice is usually applied to the injured site by means of a bag filled with crushed ice which is wrapped in a damp towel. The damp towel is essential as it forms a barrier between the bag of ice and the skin and reduces the risk of an "ice burn". DO NOT leave the ice on for more than 15 minutes as you could cause an "ice burn".
There are a small number of areas that you should not apply ice to which include the neck, the outside bone of the elbow, the collarbone (upper end), the front of the hip (bony part) and the outer bone of the knee. The reason for this is there is a superficial nerve just below the skin in these areas that can be damaged by applying ice to it. Always check for contraindications.
Compression
Applying compression to an injured area minimises the amount of swelling that forms after an injury in two ways and should be applied for the first 24 to 72 hours from the onset of injury. Compression can be applied through a number of methods. The most effective of these is by using a compression bandage which is an elasticated bandage that simply fits around the affected limb.
Elevation
Elevation of the injured limb is the final principle of PRICE but is equally as important as the other 4. Elevation allows gravity to drain the fluid away from the injured site. This aids in decreasing the swelling which in turn may decrease the pain associated with oedema (swelling).
Read more on PRICE principles
Preventing Ice Hockey Injuries
Injury prevention strategies are very similar in most sports, although variations relating to protective equipment and conditioning will be present. The following is a simple guide to help you to avoid injury:
Warm-up
A warm-up is a vital part of injury prevention in every sport. It also helps to prepare you mentally and physically. Warm-ups should get the heart rate up to increase the flow of blood around the body, in preparation for more strenuous activity. It should also warm and stretch the muscles to ensure they are working to their optimum and do not sustain an injury due to being cold and inflexible.
A warm-up should consist of a minimum of 5 minutes of cardio, and pulse-raising exercises such as jogging, cycling, skipping, etc. This should be followed by dynamic stretches. These have more recently replaced the use of static stretches. They include drills such as running with high knees, heels to bum and Cariocas. This should be performed for a minimum of 5 minutes, up to a maximum of 20 minutes, with movements gradually becoming larger and faster. This is preferable to static stretching as it keeps the body warmer and heart rate higher, and more resembles the type of movements which are required in most sports.
Protection
Wearing the right kind of protective equipment is vital to avoiding injury in ice hockey. Padding is worn on most parts of the body, as well as a helmet and gloves
Abiding by the Rules
It is not uncommon in sports such as ice hockey for fighting to break out and foul play to be committed. Estimations have shown that up to 1/3rd of injuries occur during behaviour which is outside of the rules of the game!
Rest
Resting is an important part of any athlete's training program! Physiological changes within the cardiovascular, respiratory, and muscular systems in our bodies, occur when we are at rest. Overtraining often results in injuries due to fatigue causing poor technique and overuse-type injuries. If you feel at all unwell, tired or in pain, you should rest until better.
Training
In order to play at the higher levels of any sport, training is vitally important. Training not only the cardiovascular and muscular systems but also techniques and tactics is required to make sure the body is strong, coordinated and flexible as well as the mind is prepared and focused to name but a few.
Nutrition and Hydration
Proper nutrition is important. A bad diet will prevent you from recovering from training sessions making you more prone to injury. A balanced diet is what you should aim for:
Carbohydrate is important for refuelling muscles
Protein rebuilds muscles
If you become dehydrated then less blood will flow through muscles. The muscles will be more prone to injury
Vitamins and minerals are required for a number of reasons related to recovery
Much of what is discussed above should be part of your sporting routine. A biomechanical analysis can help identify possible injury risks. Orthotic devices can help. Also, an assessment from a sports therapist or specialist can identify weak areas and possible injury risks. A course of exercises specific to your needs can give you the best chance of avoiding injury.