Osgood Schlatter Disease Rehabilitation
By Paul Tanner
A step-by-step rehabilitation program for Osgood Schlatter Disease. Criteria-based, we take you from initial injury to full competition fitness.
It is based on what Paul would do with his youth players but adapted for use by anyone. Progress through 5 phases at your own pace, meeting specific criteria before moving on.
Suitable for:
Young athletes suffering from Osgood Schlatter Disease
Level
From beginner to elite level
Time required:
10 – 20 mins daily
What is Osgood Schlatter Disease?
Osgood Schlatters Disease is a painful reaction just below the front of the knee. It occurs mainly in children between the ages of 10 and 15 years old because their bones are not fully developed.
The main symptom is pain at a specific point on the front of the shin bone, just below the knee (called the tibial tuberosity).
Pain is worse with exercise, particularly weight-bearing exercise such as running, football, and sports involving jumping.
Symptoms improve with rest, only to return again later, somtimes for no apparent reason. Our comprehensive rehab program aims to break this cycle by relieving symptoms and gradually increasing the load through your knee.
What's included in our Osgood Schlatter rehab program?
Treatment & healing
This covers how and when to apply treatment such as cold therapy, compression & massage. We also include strapping & taping tutorials as well as when to use knee supports & braces.
Exercises
We include dozens of different knee rehabilitation exercises with video demonstrations covering mobility & stretching, activation, strengthening, motion control, and functional.
Expert guidance
Throughout the program, Paul Tanner explains the aims of each phase and where you need to be before you can progress onto the next level.
He sets specific goals or benchmarks for you to achieve before moving on to the next phase, or rehabilitation.
Priority support
If you have any questions about the program or your progress through each phase, then get in touch with our qualified sports therapist for advice.
Our in-app support ticket system allows you to communicate directly with us.
Meet the program physiotherapist
Paul Tanner
Paul is head of Medical Services at Millwall Football Club, dealing with all aspects of match and training day sports physiotherapy and medical cover.
His career also includes First Team Physio at Norwich City Football Club and Senior physiotherapist to London Wasps Rugby first-team squad.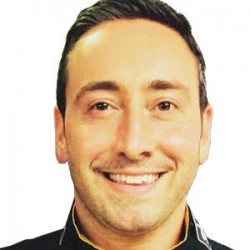 Program content & structure
The program consists of 4 phases and a 5th injury prevention/mitigation phase:
Phase 1
Phase 1 is the acute management phase.
The aim is to reduce pain and inflammation and allow the painful area to heal.
Rest is essential at this point. Check the Exit Criteria to see when it is safe to progress to phase 2.
Phase 2
This is the 'Re-Load' phase. The aim of phase 2 is to continue to protect the area and improve the condition of the muscles.
It comprises cold therapy, taping/Bracing, massage, foam roller, 6 stretching exercises, 6 strengthening exercises, 2 functional exercises, 2 core exercises & cardiovascular fitness.
Phase 3
The aim of phase 3 is to increase strength and endurance of the quadriceps whilst maintaining length.
It consists of taping/bracing, cold therapy, massage, 5 stretching exercises, 5 strengthening exercises, 2 functional exercises and running progressions.
Phase 4
The aim of phase 4 is to increase quadriceps muscle strength and endurance and prepare for return to training/play whilst maintaining length.
It consists of taping/bracing, cold therapy, massage, 5 stretching exercises, 5 strengthening exercises, 2 functional exercises and running progressions.
Phase 5
The aim of phase 5 is to ensure maintenance whilst establishing a return to training. Don't just stop stretching and treatment completely once you are pain free.