An elbow hyperextension injury occurs when the elbow is bent back the wrong way. This over-straightening causes damage to the ligaments and structures of the elbow.
Symptoms of elbow hyperextension
This type of injury occurs most frequently in contact sports such as rugby or martial arts. There will be instant pain as the arm is forced straight.
Pain will be felt at the front of the elbow and some swelling may appear. The biceps muscle may spasm to protect the joint, making it difficult to straighten the arm.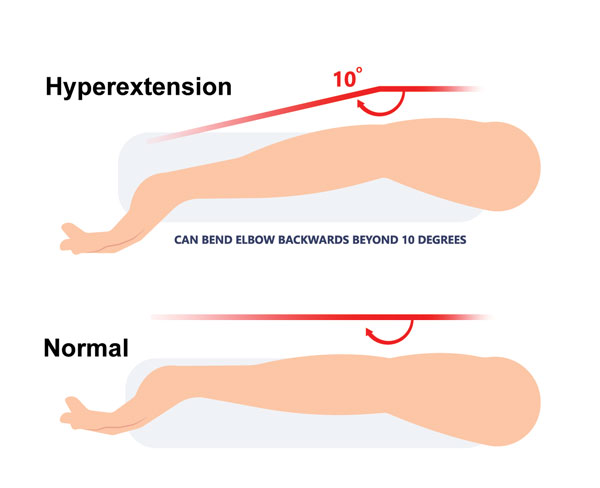 Treatment
Immediate treatment involves the application of cold therapy and compression. Rest until symptoms resolve. Wear a support or heat retainer. Apply elbow strapping to prevent the elbow from hyperextending (bending backwards) whilst healing.
A professional therapist may use electrotherapy such as ultrasound to help reduce pain and swelling as well as advise on a full rehabilitation program.
Elbow hyperextension taping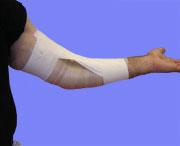 The aim of this taping is to prevent hyperextension (over-straightening or bending the wrong way) of the elbow. It will provide support for strained elbow ligaments.
Under wrap
Spray adhesive (optional)
1.5-inch non-stretch zinc oxide tape.
2-inch elastic tape (elastic adhesive bandage or E.A.B.)
Step 1
Shave the upper and lower arm.
Position the elbow in a slightly bent position.
Advert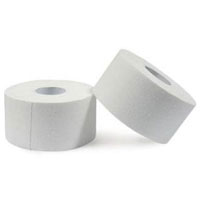 Zinc Ocide Sports Tape
Step 2
Apply two anchors around the middle of the forearm and two around the middle of the bicep using 2-inch elastic adhesive tape.
Ensure the athlete contacts the forearm muscles by making a fist and tenses the bicep muscles when applying the tape. This will allow for expansion when the muscles are worked and increase blood flow.
Step 3
Form a checkrein or crossed fan with between four and six pieces of 1.5-inch non-stretch zinc oxide tape. Measure the length of each piece so it will join the upper and lower anchor with the arm in a slightly bent (pain-free) position.
Step 4
Secure the checkrein between the two anchors and 'close' or cover the ends with another strip of elastic adhesive bandage