The following Groin strain treatment protocol forms part of our step-by-step Groin strain rehabilitation program. Created by elite-level sports physiotherapist Paul Tanner it takes you step-by-step from injury to full fitness.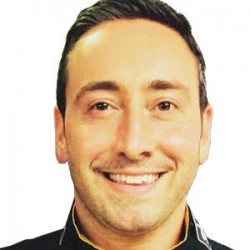 Program author: Paul Tanner
Paul is head of Medical Services at Millwall Football Club, dealing with all aspects of sports physiotherapy and medical cover.
The program comprises five phases plus a maintenance phase. You only move on to the next phase when you achieve specific targets or exit criteria. Paul explains the aims of each phase and we demonstrate and explain treatment and exercise tasks to do each day.
Download our App to access our step-by-step Groin strain rehab program: iPhone & Android
Phase 1 Groin strain treatment
Phase 1 of Groin strain treatment is the acute stage and begins as soon as possible after injury. The aims of phase 1 are:
Reduce pain
Reduce any swelling and inflammation
Allow your muscle to heal
Cold therapy
Apply a cold therapy compression wrap for 10 minutes every 2 hours immediately after injury, or as soon as possible. You can reduce the frequency to 3 to 4 times per day as your symptoms improve.
Rest/offload
Complete rest from running and offload as much as possible. This means avoiding any activity which is painful or aggravates your injury. In particular, NO STRETCHING at this stage. Just rest as much as possible.
Taping & support
Apply groin strapping if available or wear a groin compression sleeve. This helps reduce swelling and protects your muscle from further injury. A simple elastic compression sleeve is ideal at this stage. Wear it all day if possible, especially if you have to move about for work or school for example.
Exercises
Although you should be resting completely for the first few days (or more) there are a number of stretching and strengthening exercises you can do at this point without aggravating your injured muscle. It is important to keep your training routine going with exercises that will speed up recovery later in the program.
Phase 1 Exit criteria
In order to move to phase 2 of our Groin strain treatment and rehab program you must:
Have rested completely for at least 3 days
Applied cold therapy & compression at least 3 times per day for 2 days
Be able to walk pain-free for 15 minutes
Have no pain to touch
Do a single-standing adductor stretch pain-free
Download our App to access our step-by-step Groin strain rehab program: iPhone & Android
Phase 2 Groin strain treatment
Phase 2 is the early rehabilitation phase and is available on our sports injury rehab app.
The aim is to continue to protect your injured muscle whilst beginning to put a load through it with isometric groin exercises.
Groin strain treatment in phase 2 consists of hot & cold therapy, continue to strap or wear groin support, and massage arnica-based cream into the area.
In addition Phase 2 includes:
5 stretching exercises
2 activation exercises
5 strengthening exercises
Cardio fitness routine
Phase 3 Groin strain treatment
Phase 3 is the mid-rehabilitation phase and aims to increase groin muscle strength and endurance. It comprises:
Hot & cold therapy
Taping & support
Massage
7 stretching exercises
2 activation exercises
7 strengthening exercises
2 functional exercises
Running progressions
Download our App to access our step-by-step Groin strain rehab program: iPhone & Android